Hello, my friends!
Because I am so utterly mysterious, I have been tagged for The Mystery Blogger Tag YET AGAIN. This time by the illustrious CM, 2 Tim 1:7, Fdr. of Project Pursue Wisdom.
Here are the RULES:
1. Put the award logo/image on your blog.
2. Thank whoever nominated you and provide a link to their blog. (Many thanks to CM and you should all go check out Project Pursue Wisdom because it's fantastic!)
3. Mention the creator of the award and provide a link as well (this award was created by Okoto Enigmas)
4. Answer the five questions you were asked. (This may prove more difficult than it sounds.)
6. You have to nominate ten – twenty people. (Um, nope.)
7. Notify your nominees by commenting on their blogs.
8. Ask your nominees any five questions of your choice with one weird or funny question.
9. Share a link to your best post(s). (As if I could possibly narrow it down.)
Um, I don't know why the rules are so tiny and I don't know how to fix it. Oh well.
Here is the aforementioned logo:
All right, on to the questions!
1) What is one vice you must fight against the most often?
Hm…there are many. But probably arrogance. I tend to think I am more awesome than other people. (I mean, obviously I am more awesome than other people?) But yeah.
2) Which fictional character can you relate to the most and why?
Oh, I relate to all of them. Well, almost.
I actually (weirdly enough) really related to Rodion Raskolnikov when I read Crime and Punishment several years ago: the way he's so pathetic and gets so wrapped up in his own thoughts and thinks he's better than everyone but at the same time he hates himself and spends the whole book moping around and being freaked out about stuff and not doing relationships correctly AT ALL.
…It wasn't because he was an axe-murderer or anything.
I've never killed anyone with an axe.
In case you wondered.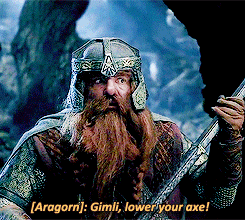 3) Pick three historical figures that you wish to meet and have tea/coffee with. What you would discuss with them?
I don't like coffee. Or tea. Or talking to people. But I think that's not really the point of the question.
Historical. Historical figures. That means real people I think. Um…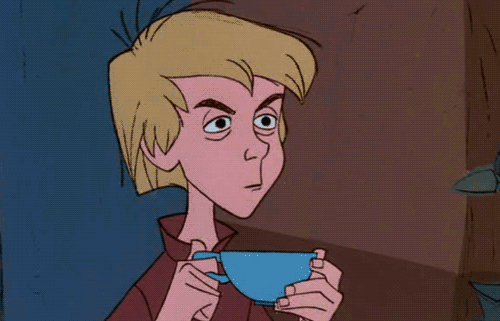 (Above, we see a representation of me struggling to remember any further back than the last two minutes to scrounge up the name of a historical human.)
1. Charles Dickens- I would discuss the ending of The Mystery of Edwin Drood and ask him if he had an ending of any kind in mind or if he didn't know what was supposed to happen any more than the rest of us. I haven't actually read that (unfinished) book, but the fact that it was a murder mystery essentially and the author died before it was completed is somewhat intriguing.
2. C.S. Lewis- ALL THE THINGS. I mean, theology and literature and philosophy and psychology… Actually though I would have no idea how to talk to this man and I should probably just stick to reading his works and pretending that I'm not totally out of my depth.
3. Charlotte Brontë- I have always thought that the Brontë sisters were super cool, especially since I have sisters who all write so I feel a kind of camaraderie with them. I don't know. I would want to talk about writing, obviously. What else? I would want to discuss all the stories that she and her siblings came up with as kids and how she evolved from an imaginative kid with stories in her head to a famous author with stories out in the world that continue to impact people even all these years later.
I just realized that all of their names start with C. That was a coincidence. They are all authors. That is not really a coincidence, because I am obsessed with writers and writing and words and literature. I just hope that if I talked to any of these authors I would somehow absorb some of their literary awesomeness.
4) What story world would you choose to live in until your dying breath? (Yep, there's no goin' back.)
I usually choose Middle Earth for questions like this (The Shire is MY HOME), but right now I'm actually thinking Narnia. The TRUE Narnia that they go to in the end of The Last Battle. Because it's essentially Heaven. The ending of that book always gets to me.
5) What is one movie you wish more people would watch? (Or a book if you're really not into films.)
Love and Mercy. It's a biopic about Brian Wilson from the Beach Boys. Which doesn't necessarily sound super exciting, but it's SO GOOD.
You don't have to be a major Beach Boys fan to enjoy this film. I had heard their music, but I was never really into them (I'm still not). The story can speak to anyone. It gives such a moving picture of an artist struggling with mental illness. It's about a musical artist, but the struggle can apply to any kind of artist. Or any human being, for that matter.
Even though I haven't dealt with anything nearly as extreme as Brian Wilson has, the character in the film is strangely relatable. The acting is phenomenal as well.
"Best" Posts
Here are a few stellar posts of mine:
A Day At The Beach~ In Which There May Be Groovy Dancing And Also Death
Fantastic Foster Families In Fiction~Featuring Me Being An Emotional Mess
A Sponge's Guide To Movie Soundtracks~In Which I Geek Out About Music And Pretend To Be Helpful
Epilogue
There you have it. You can read my previous Mystery Blogger Tags here and here.
What about you, my mysterious friends? Which historical figures would you like to have tea with? Do you ever relate to disturbing characters? Do you find yourself struggling to interact normally with other humans, or does it come naturally to you? What is a movie that you think more people should watch? Tell me all these mysterious facts in the comments!