Yo, my friends!
For those of you who haven't become acquainted with the fact, I love theatre. I participate in theatrical productions in my community, I go to local shows, and I listen to original cast recordings of Broadway musicals galore. I also sometimes spend way more money than I probably should to go see live performances of Broadway shows on tour.
And they are, in a word, dazzling.
But, well, theatre is kind of shut down at the moment. Also, sometimes I just don't want to go outside, even when we're not in the middle of a quarantine situation.
How do I experience the brilliance of these shows then?
Well, folks, let me tell you.
Professional live theatre recordings! No, it is not as awesome as seeing a show live, and I will never stop doing that as well, but it's still pretty amazing. It also allows me to see shows that I never could have seen otherwise (without borrowing exorbitant amounts of money and flying out to Broadway or the West End and spending the rest of my life paying off my poor financial decisions), and that, my friends, is a wondrous thing indeed.
This post is basically an ode to this form of entertainment, this strange hybrid between live theatre and television.
Here are a few shows that I have seen through this means. And they are all wonderful.
Crazy for You (PBS Great Performances)
This was on television in…1999, I believe? So I wouldn't really remember it, but thankfully my father had the foresight to record it (on a VHS, because it was THAT long ago) and now we can watch it whenever we want.
(It's so ancient that I can't find a picture from it, but oh well.)
The story is about a young New Yorker named Bobby Child who wants to make it in show business, but his mother wants him to be a banker or something. He ends up going to the little town of Deadrock, Nevada, on bank business, and finds a show business opportunity he never dreamed of…as well as romance, but you probably saw that coming.
This show is a comedy, with lots of fun dancing and humor. An interesting fact is that the songs used in it are all Gershwin songs, written several decades before the show was written. Gotta love Gershwin.
---
The Phantom of the Opera (25th anniversary)
The 25th anniversary performance of Phantom at the Royal Albert Hall is phenomenal. The CAST. Someone decided to put Sierra, Ramin and Hadley in the same room, and it was an excellent idea. And the COSTUMES. I geek out about this stuff. It's fine.
The story is based on the early 19th century French novel of the same name, and is about an opera house that is haunted by a deformed man who is a musical genius and also has a hobby of killing people. He is obsessed with an unfortunate ballet dancer, Christine, and convinces her that he is her dead father's Angel of Music. not creepy at all.
But! Creepiness aside, the story is actual wonderful and redemptive, the music is amazing, and this recording is the BEST.
Here is a clip:
---
Newsies
Unlike the previous shows mentioned, I actually saw Newsies live before seeing the filmed version. Thus, I am totally biased towards the touring cast.
However, the original Broadway cast (the ones in the recording, for the most part) do an awesome job too, and this was a great way to see the show again.
This high energy musical is loosely based on an actual newsboys strike that took place in New York in 1899. It is full of stunning dancing, a wonderful arsenal of songs by Alan Menken, and just the right amount of angst. Many of the characters are lovable and we all need to spend more time appreciating Hannah because she is a gem. Also, the costumes.
It's so much fun.
---
An American in Paris (PBS Great Performances)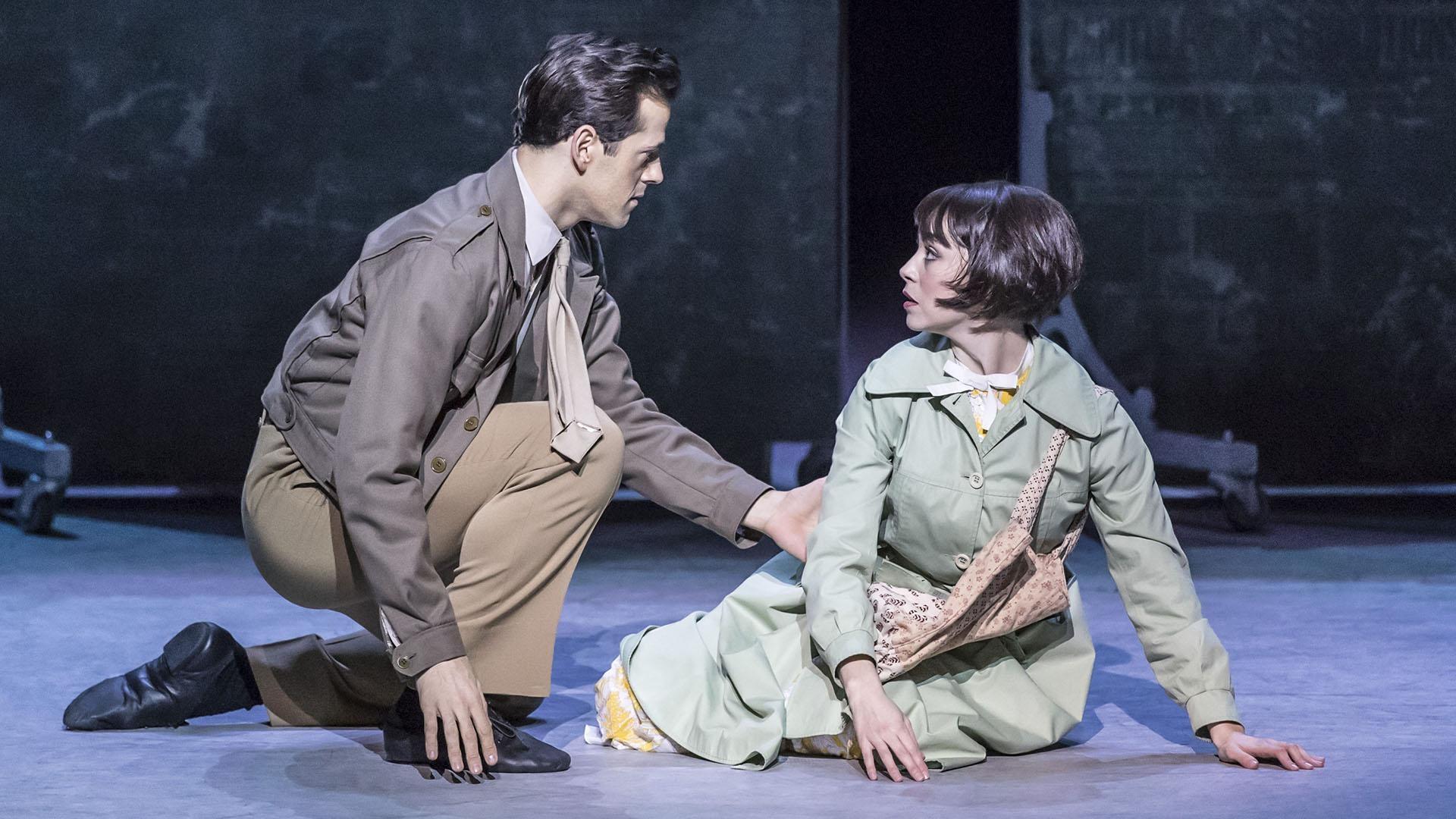 Set just after the end of WWII in Paris (duh), An American in Paris follows the stories of:
Jerry: an obnoxiously outgoing American artist just back from the army
Lise: a reserved, French ballet dancer
Henri: a wealthy Frenchman who secretly wants to be a nightclub singer
Adam: an American composer studying in Paris after the war
and Milo: a wealthy American patron of the arts.
The story is narrated by Adam, my son.
Like Crazy for You, this show utilizes Gershwin songs. It combines musical theatre with ballet in a lovely way, and the production design is brilliant. It also has a fantastic cast. And costumes. Here is a clip:
Seriously, just watch it. It's hilarious. And you will meet Adam, my son.
---
She Loves Me (PBS Great Performances)
What would we do without PBS, guys?
I know I keep using this word, but this show is phenomenal. It's a charming romantic comedy about two coworkers that fall in love with each other through letters- even though they can't stand each other in real life.
Georg and Amalia (the leading couple) are both terribly endearing- they love books and art and they feel socially inadequate most of the time, and honestly I relate. The delivery boy, Arpad, is my son (I have several).
The production design is beautiful- the entire set is like a sweet little dollhouse. The costumes are wonderful. The cast is wonderful. Everything, in fact, about this production is wonderful.
And it features ice cream. What's not to love?
---
Bandstand
This show is underrated, and I am so glad that I got to see it.
Post WWII, former musical prodigy Donny Novinski is trying to cope with trauma and figure out what his life looks like now. He ends up starting an all veteran swing band in order to enter a national contest that he's absolutely sure he can win.
There is also the matter of his best friend Michael's widow, Julia Trojan, who he is supposed to check up on. And what do you know, she can SING. And write poetry (or perhaps SONG LYRICS).
The show focuses mainly on Julia and Donny both grappling with Michael's death. It demonstrates how music can be a way to express things we don't know how to say, and how it can maybe lead toward healing wounds we don't want to admit we have.
The other members of the band, Jimmy, Davy, Nick, Wayne and Johnny are all beautiful humans with their own baggage from the war. And I love them dearly.
I know I keep talking about angst, but this show is also hilarious. Julia's mother makes me laugh pretty much every time she opens her mouth…or just exists. And the dancing is amazing!
A cool fact about the show is that the members of the band are all actually playing their instruments- they're not just actors pretending that they know what they're doing.
This song made me cry the first two times I listened to it, completely out of context. That's how good it is.
---
Epilogue
I love Broadway shows, and I am so grateful for the opportunities I've had to see these recordings. With the exceptions of Newsies and Phantom, I wouldn't know how awesome these musicals were without the blessing of recorded theatre. And what would I possibly do without Bobby, Georg, Amalia, Adam, Henri, Wayne and Julia in my life?
Have you seen any of these shows, live or from the comfort of your own home? What are your favorite musicals? Do you geek out about costumes as much as I apparently do? Have you watched the "I Got Rhythm" clip yet? If not, what are you waiting for??? (Just kidding- kind of.) Do you like stories that make you cry?