Hello, my superlative blogger chums!
It is, as of a few days ago, a new year. And not only that, but a new DECADE as well. Holy moly.
Even though the passage of time is, in fact, painfully predictable, I still have great difficulty comprehending it. For a sponge like me, this whole 2020 thing is going to take some getting used to.
Here is an accurate depiction of me trying to live normally in the year 2020: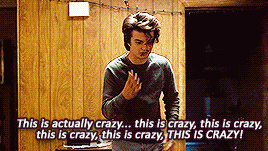 …As if I didn't see it coming or something. I've given up trying to understand why my brain freaks out about things like this. It just does.
Anyway. It's time for me to write a blog post. And what better way to ring in the new year than with a post  about writing, music, and about four hundred buckets of unnecessary angst?
So here's what is going to happen:
I am going to introduce you to some of my very own children, all of whom were created in 2019.
I will introduce them thus:
1) give a brief description of him or her/the story that he or she comes from
2) provide a GIF that sums up his or her life/personality (more or less)
3) link to a few songs that I think embody his or her character
4) share a character quote
And by the way, most of these characters are far from fully developed and come from stories that are in the form of goo right now.
This is a splendid idea.
Without further ado, here are my children:
Claudia
Hails from: Untitled (contemporary/historical, fantasy/science fiction, alternate dimensions, old houses, grandfathers, mothers and daughters)
Claudia, a recent college graduate, moves into the house that her estranged grandfather left to her in his will. The house isn't creepy AT ALL. (Okay, so maybe a little.) She isn't living there for long before she starts to wonder if she is going crazy.
Claudia is socially awkward and mostly quiet, but she has strong opinions about things. She has a strained relationship with her mother (for reasons yet unknown to me).
GIF: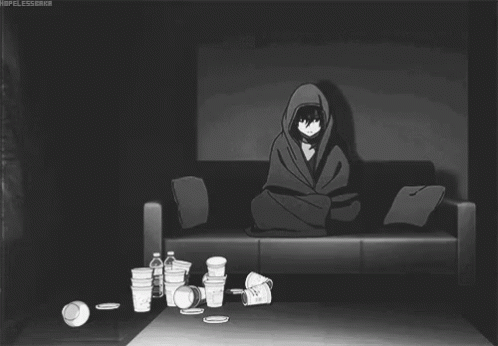 Songs:
Lonely Nation by Switchfoot
Screen by Twenty One Pilots
Through Smoke by Needtobreathe
Quote: "I still felt incompetent in my grocery shopping abilities, and it was even worse than usual this time because I was so distracted. Thankfully it was early enough that there weren't too many people for me to run into."
Marcus
Hails from: Untitled…mess (contemporary, foster care, abuse, human trafficking, angst, angst, angst)
Marcus…um, I'm still not sure why this kid exists, but I love him dearly? He has trauma. He writes poetry. Sometimes. He wants to protect Rosalie at all costs, but he doesn't know how. I actually don't really want to talk about him, so we'll move on to the good stuff.
GIF: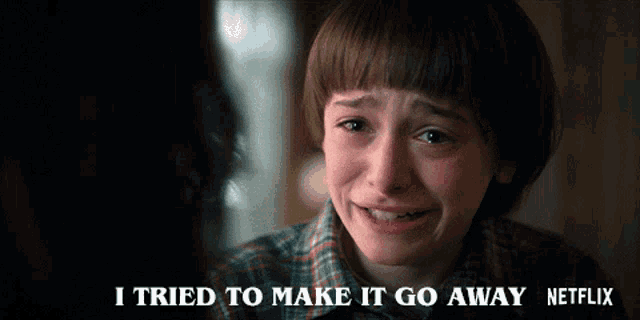 Yeah. Pretty much.
Songs:
Chains by Radical Face
When It's Cold I'd Like to Die by Moby
Hold Her by For King and Country
Hate Myself by NF
Quote: "I was angry. But not at her. She thought I was angry at her. I wasn't."
Rosalie
Hails from: Untitled…mess (contemporary, foster care, abuse, human trafficking, angst, angst, angst)
As you may have noticed, Rosalie comes from the same mess as Marcus. Rosalie has lots of trauma that she doesn't really realize she has. She goes blank sometimes and has no idea what's going on. She likes to draw. She works at a bakery. I really don't know what else to say.
GIF:
Songs:
Eleanor Rigby by The Beatles
Holy Branches by Radical Face
Trauma by NF
Blackbird by The Beatles
Quote: "I like that song you play about the lonely people."
Leona
Hails from: Untitled (fantasy/historical, siblings, family problems, abuse, magical abilities, Lords and Ladies)
Leona and her two older brothers live in a rustic castle on the edge of a large expanse of frigid wildness. Her oldest brother owns a great deal of land and is more than eager to offer a substantial dowry to anyone that his sister wants to marry. But Leona knows where all of her brother's wealth comes from, and she despises him for it. Meanwhile, her other brother just gets sicker and sicker and Leona is desperately trying to get him to leave. It drives her crazy that no one else seems to notice that anything is wrong.
GIF: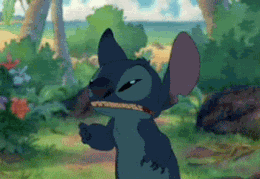 Songs:
Turns You Into Stone by Fleurie
Home by Alan Menken and Tim Rice
Touch the Sky by Julie Fowlis
Quote: "Keep  telling yourself that, Brecken. I hope it give you some small comfort, even if it's only a lie."
Jacob Marley Schmidt
Hails from: Untitled (contemporary, foster care, bullying, religion, siblings)
I really don't know what to do with Jake. He's this kid who is fiercely protective and he has a great sense of humor, but he sometimes takes responsibility for things that he shouldn't and tries to control other people's lives just a little bit. And he gets really angry when he feels like he's not in control. We're working on this, okay?
GIF:
Songs:
Wow, I'm Not Crazy by AJR
Lean on Me by Bill Withers
In Love with the 80s by Relient K
Quote: "Just practicing for when I become Batman."
Prince Trellic
Hails from: Untitled Rapunzel retelling (fairy tale, siblings, deformity, princes and princesses, ostriches, sheep, disguises)
This kid doesn't fully realize how lonely he is until he meets a very strange girl in the forest and becomes her friend. He is kindhearted, though a bit snobbish at times, and he dislikes large parties.
GIF: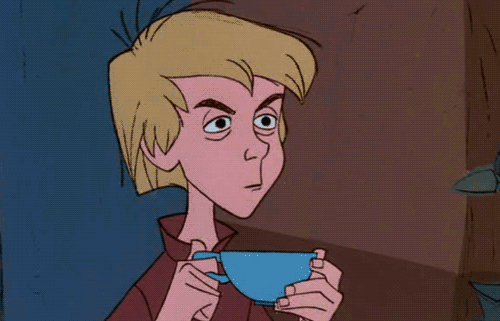 Songs:
The Vikings Have Their Tea by John Powell
Go the Distance by Alan Menken and David Zippel
Noble Maiden Fair by Patrick Doyle
Quote: "I hope you pay your taxes."
Epilogue
Well…that was stupidly difficult to do. I started out thinking this post would be quick and easy. Ha.
I am hoping to continue developing all of these characters in 2020. Most of their stories are a bit of a mess at this point, but…I can totally change that.
What new characters cropped up in your writing in 2019? Do you love or hate any of them? Are you at a loss as to what to do with them? Do you ever attach songs to your characters, or do you have song resistant characters? Which of my characters would you most want to read about (if any)? Please share your characters with me!