Good morrow to you, my blogger chums!
Something has come to my attention:
There aren't enough musicals in the world. (This is definitely a fact, not an opinion.)
And another thing. Clearly there hasn't been enough singing on this blog. Putting these two things together, I think it's obvious what we must do. It's time to go to Broadway.
Those of us who regularly burst into spontaneous song and dance numbers in every day life are ever grateful for the existence of Broadway. It makes us feel  a little less weird about our behavior. I mean, if newsboys in the 1800s and American founding fathers and ex-noble Russians express their feelings through heart-wrenching ballads and dance routines, why shouldn't we? IT MUST BE NORMAL.
I guess the point I am trying to make is that musicals improve the quality of life. Or something.
As such, it is apparent that we need more of them.
Material for musicals is virtually limitless, but here I have compiled a list of books that would make absolutely stellar musicals.
And here they are:
1. The Wednesday Wars by Gary D. Schmidt
Holling's English teacher hates his guts. At least, he thinks she does. She makes him read Shakespeare. A lot of Shakespeare. What torture!
This book is a super quirky, episodic story about a kid in the 1960s during the Vietnam War, and it could be a hilarious (as well as touching) musical. Holling sees the world in a dramatic way, and I think that dance numbers and ballads would fit quite nicely into that.
You could incorporate characters from the Shakespeare plays he is reading, as well as throw some musical elements from Shakespeare's day, just for good measure.
2. The King's Fifth by Scott O'Dell
This book is a historical drama/adventure that follows the story of fifteen-year-old Estéban, a cartographer who falls in with the conquistadors.
I am always looking for more dramatic, serious musicals, in the line of Les Misérables, A Tale of Two Cities, and The Hunchback of Notre Dame. (Haha, I just realized these are all France related.)  Estéban's story has the potential to have the kind of emotional gravity that these other stories have. The main character has dramatic shifts and struggles that would lend themselves to song. Think "What Have I Done?" and "I Can't Recall."
The set might be kind of a challenge, but I picture it being kind of abstract, since the story is told mainly through his memories. It could be really cool.
Bring on the heart-wrenching ballads already.
3. The Tiger Rising by Kate DiCamillo
Speaking of heart-wrenching ballads…
Rob is a lonely, quiet boy who locks his memories away in a suitcase. There isn't really anything exciting about his life. Until he finds the Tiger. And meets Sistine.
So basically I am picturing a Secret Garden/Dear Evan Hansen vibe here.
I see this as being fairly stylistic, with the Tiger being played by a person (maybe) who does ballet/modern style dances or something. And maybe Rob's mother (who is dead) would be incorporated into the dances as well… I don't know if that would work. But I think it might. As long is it was NOTHING like Cats…
Regardless of what you did with the Tiger, this show would have some majorly emotional songs and I NEED them to exist.
4. Fairest by Gail Carson Levine
Duh.
Half this book is supposed to be in song anyway, because in the fairy tale kingdom of Ayortha they are ALWAYS singing. So it's kind of a no-brainer.
Fairest is a retelling of Snow White. Aza has snow white skin and jet black hair and blood red lips…and everyone thinks she is hideous. Because seriously, wouldn't that make someone look disturbing?
This musical would probably be Disney-esque, with a hint of Once Upon a Mattress and Anastasia.
5. The Help by Kathryn Stockett
An awesome, ensemble cast with tons of female ballads!!! How can I say no?
I don't even know how to describe this, but it would be fabulous.
Aibileen, Minny and Skeeter would lead the cast with a little gospel, a little soul and a little classic Broadway. I love it already. And you could have those awesome ensemble songs where everyone is in separate places singing about their own problems but they're all harmonizing and doing counterpoint and it's gorgeous (like "One Day More," "Does Anybody Have a Map," "Leavin's not the Only Way to Go," and the quartets from Anastasia and Secret Garden.)
6. Nicholas Nickleby by Charles Dickens
I can never say no to Dickens, folks.
Nicholas and Kate have just lost their father, and unfortunately their mother is somewhat useless (though she is hilarious, and I love her), so the three of them go to London to seek help from their father's brother- who turns out to also be useless, but in a different way. He's just a miserly jerk.
As they try to find their place in the world, Nicholas and Kate encounter a plethora of outlandish characters, including the traveling theatre troupe led by Mr. Crummles,the endearing orphan Smike, and the eccentric Newman Noggs. Just think what kind of music these characters could inspire! It would definitely make me laugh and cry. Which is the best kind of musical.
(Actually, a Nicholas Nickleby musical does exist. At least a sketch of one. But it is horrible and we will never speak of it again. Try looking it up if you dare.)
7. The Ugly Princess and the Wise Fool by Margaret Gray
To put it simply: a quirky, comedic fantasy with smoked salmon.
This clever little fairy tale would make a smashing good musical. And think of the under-representation of smoked salmon on stage.
Even though third princesses are known to be divinely beautiful, Rose is born rather hideous. And even though the king has outlawed wisdom, he unknowingly hires a former wise man to be his court fool.
Things could get interesting. Classic musical theatre right here. With a dash of Disney. And maybe some Sondheim.
8. The Whipping Boy by Sid Fleischman
Here we have a historical, comic adventure about two boys whose names totally escape me. One is a prince, and the other is his whipping boy- which basically means that every time the prince does something bad, the other kid gets punished for it.
So yeah, the prince is spoiled rotten.
Somehow they end up going on some kind of adventure together, which might involve kidnapping. Mostly I don't remember, except that it's fun, and they end up understanding each other a little better, and all that good stuff.
It would have fun costumes, and we could have some heated duets, like "Loathing" from Wicked.
9. Larklight by Philip Reeve
This is set in Victorian times and takes place mainly in outer space. With aliens. And giant spiders.
So yeah, there would be technical difficulties, sure, but it's so ridiculous I think it would work.
Art and Myrtle Mumby live in an English Victorian house called Larklight, but unlike most English Victorian houses, it's floating in space. After getting attacked, these British children run into space pirates and all sorts of outlandish things.
I think this could work quite nicely with a mixture of Gilbert and Sullivan, Sondheim and Andrew Lloyd Weber. I'm not sure why I chose that combination…
10. The Sherwood Ring by Elizabeth Marie Pope
Obviously I couldn't leave this one off the list.
Taking place in both the 1950s and the late 1700s, this story is a comic adventure in a style similar to things like The Scarlet Pimpernel, Robin Hood, and The Princess Bride. The characters are unique and quirky and have all sorts of deliciously entertaining conversations- which, naturally, should get turned into duets post-haste.
I'm definitely picturing some Sondheim again here. With a splash of Disney for good measure.
Epilogue
I would love to see even one of these books get transformed into an awesome musical. Though I would probably never actually see it, because going to Broadway is expensive, but I would get to add the cast recordings to my collection. That would be enough.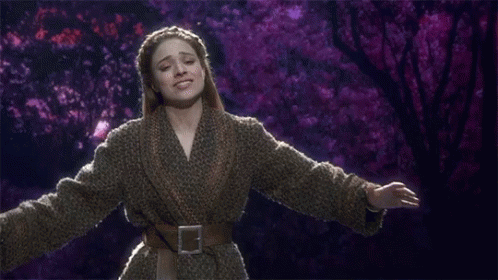 Are you obsessed with musicals? Are there any books that you would like to see adapted to the stage? Do you ever spontaneously burst into song? What is a Broadway musical that you really like that is currently in existence?