Good morrow, everyone!
Today I have been tagged by the illuminating Eden @ The Happy Hedgehog to do the Sunshine Blogger Tag! I did this tag once before. I must be super sunshine-y. But last time I didn't follow the rules AT ALL. Oops.
The nifty thing about this particular tag is that you can do it as many times as you want and there is always something different to say, because bloggers are creative and ask all varieties of questions.
Here are the rules of the tag: (Which I plan to follow this time around!)
1. Thank the blogger who nominated you and provide a link back to their blog so others can find them. (Thank you so much, Eden!)
2. List the rules and display an award logo on your blog post.
3. Answer the 11 questions the blogger asked you.
4. Nominate 11 new blogs to receive the award and notify them by commenting on any of their posts. (Of course I can count to eleven, guys.)
5. Ask the nominees 11 new questions.
And now, onto the lovely questions that Eden asked me!
1. Favorite season?
Probably spring, because it's not too hot or too cold and everything is coming back to life. Little green shoots appear everywhere and trees start to bud and the birds come back and you can feel summer because it is so near, but it hasn't arrived yet. The whole world seems ready to burst into song!
Okay, this GIF is a lot creepier than I realized it was. But I'm keeping it anyway. It has a blue seal in it.
2. Raisins in cookies. Yay or nay?
I would have said nay when I was younger- I even wrote a poem about it, illustrating my disgust- but since then I have found that raisins in cookies can actually be quite enjoyable. So now I say yea, verily yea.
3. If you could travel to Middle Earth, where would you go?
Honestly, I would pick the Shire without hesitation. I know there are a lot of stunning places in Middle Earth and I would love to visit Rivendell and Lothlórien and Minas Tirith, but if I had to pick just one, it would be the land of hobbits. I am a hobbit and that is where I belong.
4. What is one of the worst book you ever read?
Oi, where do I begin?
A book that just makes me mad is When I Cast Your Shadow. I won't get into it now, but if you want to know what I thought about it, you can see my rant in this post. You might want to bring earplugs.
5. Favorite mode of transportation?
Hot air balloon. Actually I have never been in one and it would probably terrify me because I am afraid of heights, and also they aren't very efficient for transport. But I still think they are cool.
Actually, speaking of the Muppets, my favorite mode of transportation is a map. I know you are thinking that a map is not a mode of transportation, but it is. Traveling by map gets you everywhere much quicker than anything else.
6. Name one random thing that makes you happy.
Kermit: [explains that they need something strong enough to bear their weight so they can climb down]
Lew Zealand: Here's the paper towels.
That, and the Snow Scout Pledge from The Slippery Slope. Snow Scouts are accommodating, basic, calm, darling, emblematic, frisky, grinning, human…etc. We are all still wondering how a person can be xylophone.
7. Favorite teen writer? (Doesn't have to be published.)
Me: Well, that's OBVIOUS. MY SISTER IS THE GREATEST TEEN WRITER EVER.
Me: …Except, she's not a teen anymore.
She is still my favorite unpublished author, better than the vast majority of published authors I have read, but she got old for some reason. So I have to think of someone ELSE.
Probably my cousin. Her poetry is gorgeous and it gives me feelings. You should read her blog, it's beautiful.
8. Fictional character that made you REALLY mad?
Oh boy, here we go. So many to choose from!
Well, after we first read Harry Potter, my cousins and I established a club called I-Hate-Umbridge. We had a little chant and everything.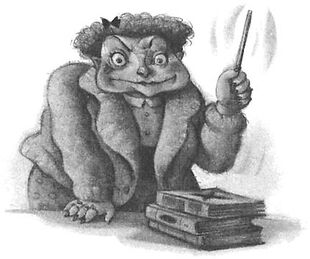 9. What's one of the most inspiring blog posts you read this year?
You expect me to REMEMBER THINGS?
Um, let's see…
Wow, I really don't remember things so I am going to have to go super recent here. I just discovered a blogger named Evelyn with a blog called the rain-drenched writer. She wrote a post called the beauty of words, which I found inspiring because I love words a lot.
10. Favorite form of procrastination? (*evil laughter*)
Reciting the Snow Scout Pledge. Obviously. "Snow Scouts are accommodating, basic, calm, darling, emblematic, frisky, grinning, human, innocent, jumping, kept, limited, meek, nap-loving, official, pretty, quarantined, recent, scheduled, tidy, understandable, victorious, wholesome, xylophone, young, and zippered- every morning, every afternoon, every night, and all day long!" –The Slippery Slope, by Lemony Snicket
11. What's one of the first things you would do if you became the last person on earth?
Probably cry. And then play the bagpipes, because there would be no one left to be bothered by them.
---
Now we get to the part where I tag eleven people. Oh boy.
I tag…
Middle Earth Musician @ Music, Mystery, Middle Earth, and Mitochondria
deshipley @ Ever On Word
Hailey @ Now All I Know Is Grace
Chelsea @ An Ordinary Pen
Maggie @ Maggie's Musings
Annie Xia @ Zoelogist
Issa @ Wonderfilled Issa
Iona @ Dragon Waffles
Clara @ Clara and Co.
and The Temperamental Writer @ All Things Trivial and Insignificant
See, I told you I knew how to count to eleven.
Now for my questions:
What is one phenomenal book that you think more people should know about?
Who is one of your favorite fictional characters and why?
What is a song that you really love at this moment?
If you could acquire one real-life skill overnight, what would it be? (like the ability to perform neurosurgery or play the accordion or balance a grape on your nose for extended periods of time)
If you could acquire one non-real-life skill overnight, what would it be? (like the ability to breathe underwater or control objects with your mind or balance a grape on your nose for extended periods of time)
What book surprised you the most this year, and in what way? (It doesn't have to be one that came out this year)
Would you rather be a superhero or his butler?
What makes you laugh? (Besides reading this blog, because I already know I'm hilarious)
What is something that you know is silly but you love it anyway?
Which fictional character would you adopt in a heartbeat?
If money was no object, which book would you adapt either into a movie or into a Broadway musical?
Epilogue
There you have it. If you are reading this and my questions look like fun, feel free to steal the tag!
Do fictional characters ever make you want to tear your hair out? Are you a fan of the muppets? Have you read anything amazing recently? Can you balance a grape on your nose? Feel free to answer any of the questions from this post in the comments, I would love to hear from you!