Hello, friends!
Books are amazing. But, of course, you all know that.
I can be a total stickler about what stories I give my heart to, and as such I have gone entire summers without finding anything that satisfied me. These are dark summers indeed. But these past few months I have stumbled upon several books that I deem Worthy. This makes me quite happy.
Let's get to the books, shall we?
Vango and A Prince Without a Kingdom by Timothée de Fombelle
This duology, set around the time of WWII, was originally written in French, but thankfully it has since been translated so that English speakers like myself can enjoy it as well. Huzzah for translators, they do an excellent job. (In fact ages ago I wrote a whole post about how awesome they are.)
Something of a cross between Bourne, Mission Impossible and Anastasia, (or something like that), Vango's story is a grand quest for identity that spans multiple continents and many years. It involves lots of climbing on buildings and attempted assassination. There is also a Scottish castle, rabbits, potatoes, and a zeppelin. What more could one want?
For some reason I really love it when people are being chased and they don't know why. So that is partly what made these books fun. I enjoyed the story and the characters. Truth be told though, the sheer number of characters started to get really confusing at a certain point. Especially in the second book.
Eleanor Oliphant is Completely Fine by Gail Honeyman
Eleanor Oliphant is completely fine. Just kidding.
This is an adult book, and I rarely read adult books, so it was kind of weird for me to even pick this up. But I did it, and I survived. Actually my mother recommended it to me, or I probably wouldn't have read it.
Eleanor lives alone. She goes to work, talks to her mum on the phone, and drinks vodka. She doesn't really have friends. She doesn't really do things. She's FINE.
Then she starts fantasizing about this singer guy and she meets a new co-worker and well, stuff happens.
I wasn't sure about this book at first, but I ended up liking it pretty well. My favorite thing about it was the element of holding back that the narrator does. Narrators that are unreliable or don't tell you everything that is going on are really fascinating to me, and that was definitely a thing in this book.
Night by Elie Wiesel
Another thing I don't usually do. Non-fiction.
Night is a personal account of a boy who underwent the horrors of the Holocaust firsthand. It isn't light reading, though the book is short. It's like a little dagger that you can fit inside your heart and twist around a couple times.
I have been meaning to read it for a while. It is very effective and really makes you think about what that must have been like to live through. Even though you can't really imagine it at all. It's important to remember that these things happened, even if it's hard to think about. The writing style is very good. And the translation is by his wife, so that is really neat.
House Arrest and Knock Out by K.A. Holt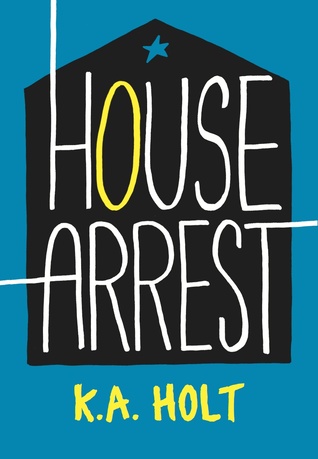 These are the books that I have actually adopted this summer. Timothy and Levi are my SONS, okay? I love them so much. Good grief.
These books are not so much a series as companion novels. Both written in verse, House Arrest follows the story of Timothy Davidson, who is writing in a court-ordered journal after he stole money to buy medicine for his baby brother, and Knock Out follows Levi, the baby brother when he is a young teen. So there is definitely a bit of a gap between the two.
K.A. Holt's writing really digs into the characters and they each have their own distinct voices, which can be hard to do, but she pulls it off extremely well. Levi has a medical condition that her own son had, which makes the story feel very real.
The writing is gorgeous yet sparse, the characters are adoption worthy, and, well, what more could you want? If you haven't read these books, I would highly recommend giving them a try. The good news is, they only take like two minutes to read since they are written in verse and there aren't very many words on each page.
Some Kind of Happiness by Claire Legrand
First of all, cousins.
Finley is sent to stay with her grandparents for the summer while her parents deal with some issues. She knows what is really going on, but she doesn't want to admit it. She has never met her grandparents before, because they had some kind of disagreement with her dad years ago, but no one will tell her what it is. She has aunts and uncles and cousins that are strangers to her. And they all seem so perfect. She feels out of place in their world.
If all this isn't enough, Finely has been struggling with a darkness inside of herself and she doesn't know what to do about it. The only way to cope with it all is through stories, stories that Finley writes about a magical place called the Everwood.
This book deals with some difficult concepts, and it does a pretty decent job. No one in the story is evil, but sometimes you really wanted to smack certain people really hard. The characters were complex, which I appreciate. Also I really liked Finley's cousins.
Lenny's Book of Everything by Karen Foxlee
You pretty much know everything that is going to happen way before it actually does, but it doesn't make any of it any less heartbreaking.
Lenny is an ordinary little girl living in an apartment in the city with her mother and her little brother. She only remembers her father a little bit. He went away one day and never came back.
Her little brother, Davey, isn't so ordinary. He has a rare form of gigantism. One day he just starts growing, and doesn't stop.
The writing style is rich and unique. The characters are real. The story is simple and complex and ordinary and extraordinary at the same time. Kind of like real life.
Epilogue
Finding lovely books is a joyous occasion indeed. What is weird to me is how many really good contemporaries I have been finding recently. Where are all the fantasies, people?
What have you been reading? Anything stunning? Have you adopted fictional characters before? Have you ever read a book that was translated from another language, or a book written in verse? Do you have any really good fantasies to recommend? Tell me all your bookish news!