Greetings, bloggerly chums!
So WordPress helpfully reminded me about my blog's birthday. Otherwise I would still be oblivious to the fact that it recently turned two years old. I AM SUCH A GREAT PARENT.
But no matter. In honor of this occasion, I should do something honorific. Since I couldn't think of anything extremely creative, I decided to do something random. I have compiled a list of ten random things that I love. Some of them for obvious reasons, and some for no rational reason that I can think of.
1. All Things Work Together- Lecrae
This is Lecrae's newest album and it is the REAL DEAL. He raps about truth and he knows how to drop a beat and honestly what more could you want?
Some of my favorite tracks:
This music makes me happy.
2. The Book Thief– Markus Zusak
THIS BOOK. I read it several years ago, and I just started rereading it last week. It is truly a work of art.
White is without question a color, and personally, I don't think you want to argue with me.

* * * A REASSURING ANNOUNCEMENT * * *

Please, be calm, despite that previous threat.

I am all bluster-

I am not violent.

I am not malicious.

I am a result.

–The Book Thief, p.6
It is SO GOOD.
3. A Series of Unfortunate Events
Okay, I may have mentioned this show on my blog a couple…dozen times. But I haven't gotten over it yet. It is so witty and morbid. It's simultaneously hilarious and heartbreaking. I watched the third and final season in January and I am trying to wait until at least November before I re-watch the whole thing, so as to avoid getting tired of it. But it feels like it's been decades, and it's only been six months. I can do this. Right?
This is a painfully accurate depiction of how I feel.
4. Live Theatre
Theatre is a unique and glorious experience. The picture above is from An American in Paris in London, which I saw a recording of a while back and completely fell in love with. It was so beautiful!
Last month I was in a community theatre production of Gilbert and Sullivan's The Pirates of Penzance, which was absolutely amazing. The show got great reviews from audience members, and we had a great time putting it together and performing.
It was my first time being in a show in over four years, and I was reminded how much I love it. We had whole elaborate dance numbers happening backstage, hilarious ad-libs, and all the best things that come with live theatre. Each performance was slightly different, and even though we had a bunch of rollicking pirates dancing about on stage with real swords, nobody got seriously injured.
Theatre is such a fantastic way to work together and bond with people. It's actually the only way I know how to make real friends. I love my theatre community and I am going to audition for another show very soon!
5. The X-Men movie franchise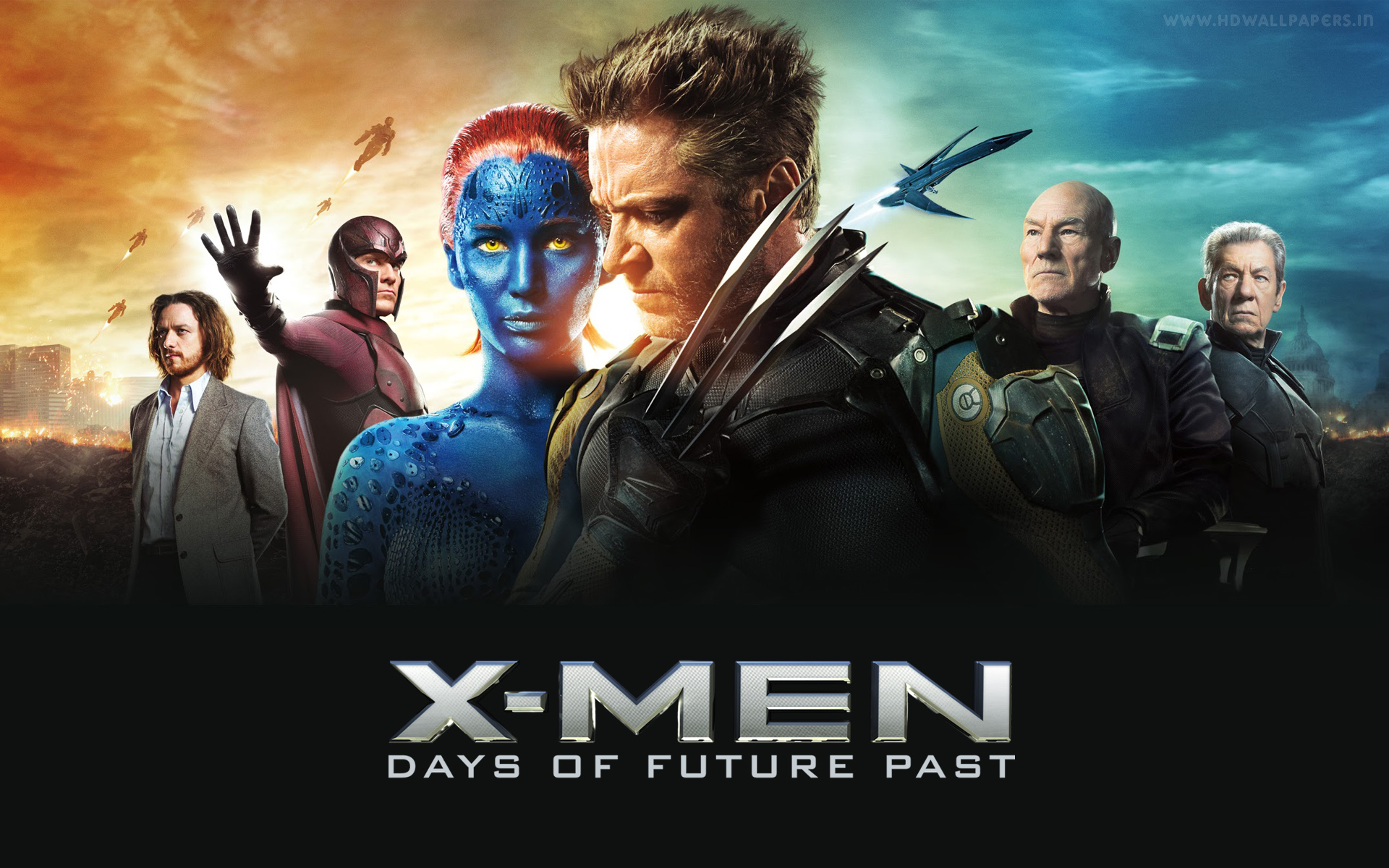 You know, sometimes I really don't know why I still put up with these movies.
Do they have character arcs that have been well thought out? No. Does the story have continuity? Ha.
Absolutely not.
Yet, here we are.
I love these movies, some more than others, but nevertheless. There is something unreasonably fascinating to me about the way mutants struggle with figuring out how to cope with their abilities, and how they learn to live in this world without breaking it. They are superhero movies, sure, but they're highly character centered (did I really just say that?) which I love.
You have these people who can do things that no one else can do, and you get to see how that effects their relationships on a personal level, as well as a political level. What do these abilities imply? What is the mutants' responsibility to the world? How do they react when they are attacked?
The great thing to me is when they end up fighting each other, not because they hate each other but because their ideas of how to respond to the world are so radically different.
I once realized that Captain America: Civil War is essentially every X-Men movie ever, and it's one of my favorite MCU movies. Friends fighting each other is my jam, apparently. Gotta love the angst.
6. Cisco Ramon
There are so many things about The Flash that I don't like, but Cisco is not one of them. Season 5 was kind of a disaster, but I can't bring myself to stop watching it. Not unless this man leaves, which he might be trying to do. I really hope he does. FLY AWAY, CISCO, BE FREE. They don't deserve you.
Cisco just needs to marry his girlfriend (no more breakups for Cisco, please) and have a family, because that's what he wants, okay?
Cisco is brilliant and snarky and the sweetest guy on the planet. My sisters and I have our own Cisco fan club, basically. It's not embarrassing at all.
But have you seen that man's face?
7. Reading aloud
Reading aloud has been a part of my life for as long as I can remember. My great great grandma used to read me this book about a bear cub and she would make her fingers walk in its footprints in the snow. That's the only thing I remember about that book.
My dad read The Chronicles of Narnia to me when I was four, and again when I was six. Later he read The Hobbit to me and my sisters.
I don't know how long my sisters and I have been reading books out loud with each other, but it's been years. It used to be me who always did the reading. I read them Percy Jackson, The Sherwood Ring, several Kate DiCamillo books, and The Gammage Cup, among other things. But they are all fluent readers at this point, and so now we can take turns.
One of my sisters read aloud The Wednesday Wars last year, and another one read aloud The Missing Piece of Charlie O'Reilly. Currently that same sister is reading aloud a story that my oldest sister wrote herself.
First of all, reading aloud is just such a fun experience. I get to spend time with my sisters and read at the same time. It's a win-win. Also there are hilarious mess-ups sometimes, kind of like theatre. You never know what's going to come out of your mouth. Like "Jonathon rubbed his eyeballs together."
The other thing is that my sister is an amazing writer and getting to hear her story is a joy. The story is about Santa Claus, but probably not the Santa Claus you all think of.
8. Brett Helquist illustrations
Something about his style is extremely appealing to me. The charm of his illustrations is a significant part of what makes A Series of Unfortunate Events (the books) so pleasing.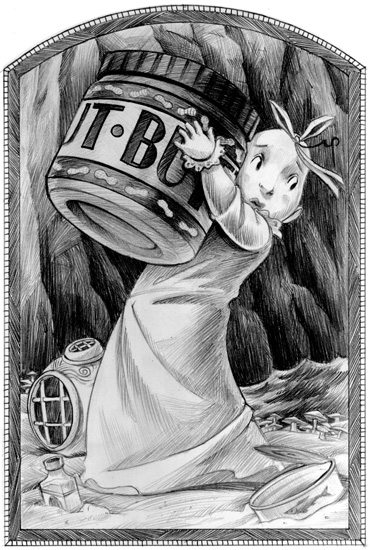 I mean, look at SUNNY'S FACE. She's adorable.
And of course we can't forget this gem:
Nothing can compare. It's just too good.
9. Into the Spiderverse
I was surprised by how good this movie was. But I watched it for a second time the other night and it is just…so good.
It is such a solid movie. The characters feel real and the humor is actually funny 90% of the time and the animation is fresh and exciting. It has angst and friendship and heartbreak and redemption and all the things a superhero movie should have. And the MUSIC. Gotta love the music.
10. Kate DiCamillo
Because she has written so many amazing books and I have feelings about them. I don't know how she does it. But she cuts to the heart using prose as elegant as poetry. I have adopted most of her characters and I don't plan on giving them up.
Wait.
WAIT.
I just discovered that she's coming out with another book in September. How did I not know this??? Now I do know this, and it makes me happy.
Doesn't it look beautiful?
Epilogue
Sometimes it's nice to remember how many things there are for me to geek out about. It's easy to forget. I forget a lot of things. Like the fact that my blog is two years old.
HAPPY BIRTHDAY, DEAR SPONGE. You have been a great home. Here is cake:
Technically this cake was for a first birthday, not a second, but you get to see Sunny being adorable so you will forgive me.
So, how old is your blog? Do you keep better track of your blog's birthdays than I do? What are some random things about your life that you love? Do you have any strange and irrational obsessions? Do you like rap music? Let me have all your randomness in the comments!