Well, would you look at that, it's 2019.
Greetings, everyone, be ye human, dragon, fish, fowl or sponge! Another year has flown past my eyeballs and I am perturbed by how rapidly time is flying. Time, it seems, has no regard for the speed limit.
As is my custom, I have been looking back on the last year to see what I discovered therein. I am also curious to see what I accomplished, though that list is alarmingly short.
This post is a compilation of my book, movie and theatrical findings from 2018, as well as a few random accomplishments and milestones.
Let us begin.
Movies
I actually discovered a good number of excellent movies in 2018, though none of them came out in that year. I did see several movies in the theater, but none of them impressed me all that much. So we'll skip those.
Not to mention that A Series of Unfortunate Events season two came out in March of 2018, so I might have spent some time obsessing over THAT.
Books
Ah, books. So many out there that can tear you to pieces. WHAT FUN.
Also so many that you can hate beyond reason.
I read several books this past year that made me boil with rage, but we're not going to talk about those! Here are some books that I actually enjoyed.
I actually read Orbiting Jupiter twice. Because it's short, so I could, and I like to make myself suffer.
Broadway/Musicals
This section tends to be pitifully slim on numbers, but never fear. I have much to say.
This summer I saw Les Misérables on tour, which was my first time ever seeing a professional production of my favorite musical of all time.
Honestly I wasn't as blown away as I wanted to be.
They revamped the staging, so I missed seeing the revolving stage that I'd been hearing about from my parents for YEARS. That was disappointing. And Enjolras' wig was so distracting. It was rather hideous.
It was still good though! A few of the actors were not my favorite, but many of them did a good job. And of course the music was phenomenal, as always.
I guess the most shocking thing about the whole production was Marius.
I have never cared all that much about Marius. He's just the lover-boy. But somehow in this production Marius ended up being my favorite character.
I was stunned by this development.
Joshua Grosso's Marius was quite frankly the best Marius I've ever seen. He was so genuine and sweet and awkward. I'm not quite sure how he managed to do it, but he did.
Also I later found out that he played Usnavy in In the Heights at one point, which makes total sense to me. He's such a dork. (And I mean that in the best way.)
Honestly I would have liked to see that.
But I am so grateful I got to see him as Marius. His interpretation of "A Heart Full of Love" was BRILLIANT. I have never enjoyed that song more.
The other big musical thing that happened to me in 2018 was An American in Paris.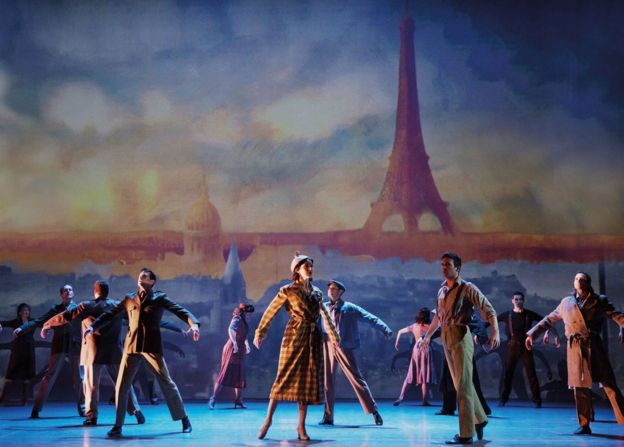 No, unfortunately I did not get to see this one live, but they aired a live recording of the London cast on PBS. I am so glad they did.
This show is based on an old movie of the same name, (which I haven't actually seen) and it's a musical that incorporates songs by George Gershwin (who is absolutely fantastic) into an original story line.
Where do I even begin? This show was GORGEOUS. The production design was phenomenal. Lighting, costuming, sets- everything was amazing.
And the CHOREOGRAPHY. Holy cow. The dancing in this show was a huge part of the production, and married perfectly to the story. It boggles my mind that people can dance like that.
Honestly the way that the music, dance and story all melded together was truly spectacular.
Somehow I completely fell in love with it, even though the entire story pretty much centers around romance. Sometimes I don't think I know myself at all.
The characters were just so endearing. One in particular.
Adam Hochberg, as portrayed by David Seadon-Young.
Adam is the narrator- and he has a New York accent, so right off the bat I kind of had to love him.
He's a composer and he's super awkward and he's tough but he has feelings and my cousin adopted him on the spot after we showed it to her. He's just that lovable.
Henri Baurel, as portrayed by Haydn Oakley, was my second favorite character. He's French, and also super awkward. Neither he nor Adam have any idea how to talk to girls. AT ALL.
The other characters were all great too. Like Lise. And Henri's mother. And Jerry.
Anyway. It was just a really, really beautiful production.
But wait, there's more!
On a slightly less life-altering note, I watched Sweeney Todd in Concert from the year 2001. It was quite good, though that show is EXTREMELY dark and hard to handle at times. It was practically all staged even though it was a concert. They even had several props. Just no real set. So that was cool.
Looky there, Sweeney and his "friends."
The weirdest thing though actually was that Count Olaf played the innocent child.
No wonder he liked torturing children when he grew up.
Random Things
I sang a voice recital. German, French, Italian, and even some English.
I took some really poor pictures of Jupiter and the Galilean moons.
 I BECAME A FIRST COUSIN ONCE REMOVED. That is to say, my cousin had a baby. So I am essentially an aunt. Honestly this is the most mind boggling development of them all. A tiny human exists and it's related to me.
I wrote a first draft of a creepy circus story! In a month and a half, which is record time for me.
I joined a story club with actual live humans. Not sure what happens next.
I recited the Snow Scout Pledge with my sisters on Christmas Eve for no reason whatsoever except that we're weird.
In Conclusion
I would say I had a good year. And next year should be exciting, if a bit terrifying.
If all goes well, I'll be graduating from college in the Spring. Then I have to figure out what to do with my life. And get a job. Or something.
No reason to panic, right?
How was your 2018? Are you surprised that's it's over so quickly, or have you grown used to the cruel passage of time? Did anything life changing happen to you in 2018? Did you discover a new favorite book, movie, or show? Did you do much writing? I would love to hear about yesteryear from you!