Hey everyone!
I am kind of squinting at the title of this post going, "Did I write that? Me? Really?" And the answer is yes, I did.
In my last post I may have bashed romance a little bit. I'm not unknown to do that. But I don't completely oppose romance, and I have written this post to prove it.
Overall my tolerance for romance is not very high, I will admit that, but not all romances annoy me. Even more shocking still, I actually like some of them. I even enjoy romance in stories sometimes. (Is this actually me? As far I as I can tell, yes it is.)
Without further ado, here is a list of some of my favorite movie and book couples.
Movies:
Beatrix Potter and Norman Warne from Miss Potter
I know this is based on a true story, but I am talking strictly about the movie because I don't know details about what happened in real life.
These two are both so awkward. She hasn't really spent much time outside the house, preferring the company of her animal friends and drawings to actual humans, and he's trying to prove himself to his older brothers in the publishing industry.
His brothers assign him to her, not thinking much will come of it, and he ends up helping introduce one of the best loved children's authors to the world. No one expects all that much from either of them, but the way they encourage each other is so sweet. Their romance is quiet and shy, and they start out by becoming close friends, which I love.
Milo and Kida from Atlantis: The Lost Empire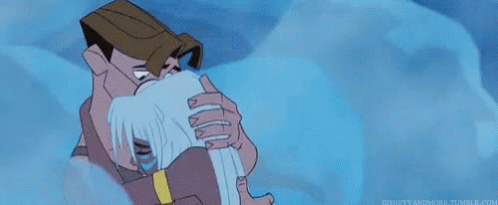 Okay, so this isn't even the greatest movie, but they are so cute.
Milo is quirky and awkward and a passionate explorer. Kida is curious and strong-willed and lonely. Also she's thousands of years old? Yeah… but it totally works.
I love the respect and affection they have for each other, and I love how they hug at the end (see GIF) instead of kiss. They are just so sweet.
Felix and Calhoun from Wreck-It Ralph
Something about these two… they are just… amazing. It seems I have a weakness for animated movies?
Felix is the positive, chipper hero from an antique arcade game, and Calhoun is a super-serious-and-deadly sergeant from a new game that is super high-tech and violent. She is also programmed with the most tragic backstory ever.
Somehow this works. I don't know why. But it does. And I love it.
Again, you can tell how much they respect each other, which is so important in any kind of relationship really. He's so sweet and kind and she's so intense. And they love each other in a ridiculous, adorable way that melts my heart for some unfathomable reason.
Tina Goldstein and Newt Scamander from Fantastic Beasts and Where to Find Them
Again with the awkwardness. I think I am sensing a trend…
I love how awkward they are. Both of them. They aren't very good at doing relationships but you can see how much they care about each other. It's endearing.
Newt is only ever truly comfortable when he's alone with his creatures. Tina is kind of grouchy but she's so protective and underneath it all her heart is bursting with so much compassion.
They don't really properly know how to fall in love or how to kiss goodbye or anything like that. I love them dearly.
Books:
Tonks and Remus Lupin from Harry Potter
They don't do their relationship justice at all in the movies, and I'm not bitter about that or anything, but in the book…
Lupin can't believe that he's worthy to be loved by anyone, but Tonks won't let him go and it's so heart wrenching!
They are both so well developed and even though their relationship is really a side plot in the series it is done so well. It is so believable. And I was rooting for them the whole way. I sometimes feel like a normal human who gets excited about these kinds of things when I read this. It's mildly disturbing.
Dewey and Kit from A Series of Unfortunate Events
So the funny thing is that Dewey is in about two chapters out of this thirteen book series and he and Kit are never present at the same time? And yet??? I have feelings.
They are both part of a secret organization. Dewey is a triplet but only a very few people actually know he exists. Most people just think his brothers are twins. Kit had two brothers, but as far as she knows both of them are dead.
Kit and Dewey are both good and noble people. And Dewey is a sub-sub-librarian. What's not to love?
Just the singular knowledge that they are a couple fills me with joy. And suffering. But sometimes those are practically the same thing. How did this happen to me, I have no idea.
Kate and Christopher from The Perilous Gard
The banter though.
Kate is sent into exile to Christopher's brother's estate. Christopher is the tragic young man at the window, and you kind of have to laugh at him for that. But everyone ignores him and Kate wants to figure out why.
There are also sinister fey folk who are eager to burn someone up on all hallows eve. Things could get messy.
Through all the strange things going on Kate and Christopher really keep each other sane, even if they are berating each other a lot of the time.
They have my stamp of approval.
Faramir and Éowyn from The Lord of the Rings
Faramir has such a sweet, sensitive soul that has been crushed all his life and Éowyn has been through her own hardship and rejection and feels like she doesn't deserve to be happy.
These two need each other, folks.
Éowyn is so fierce, but Faramir's tenderness opens her up to a warmth she was afraid to feel before. They have both experienced the terrors of war firsthand. They have both lost the people closest to them.
Some people think their relationship is too convenient, but I don't really care. I love them both and they're great for each other. Let my children be happy.
In Conclusion
I am still in a mild state of shock that I have written this post. But see, I have proven that I am not heartless. Romance may not be my favorite thing in general, but I am not immune to it. Some couples are just irresistible.
Are you as reluctant about romance as I am? Are there any couples that you just can't disapprove of anyway? Or is romance your jam? Who are some of your favorite fictional couples? (Fair warning, there is rather a low chance that I will like them too, but don't let that stop you.) Do you like/dislike any of the couples I mentioned? I would love to hear from you!